About Us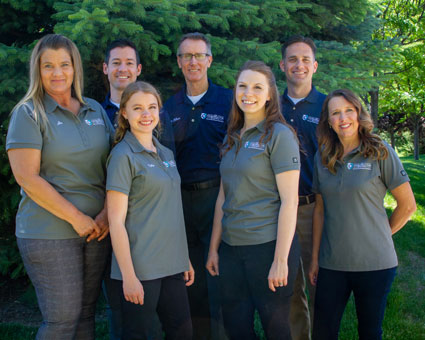 The Chiropractor at Castlebury has been caring for Eagle and Meridian residents for over two decades. Our chiropractic care center has a reputation for excellence in pain relief and family wellness. Whether you're bringing in a child or a newborn, or are a stressed-out professional or weekend warrior, we can help. We have years of experience in assisting others to live lives of vitality and optimal health.
Our Philosophy
Our philosophy is to lead the families of Eagle to heath and optimal function through example, education and an unmatched, inspiring chiropractic experience.
Our premise is to keep the families in our practice safe and healthier than those who aren't members of our practice.
Our statement of purpose is that toxic philosophies are devastating families, leading to misaligned thoughts, actions and spines. The Chiropractor at Castlebury exists to adjust the body, enlighten the mind and inspire productivity. As we carry out this purpose, families will be transformed, lives will be empowered and generations impacted.
We Put You First
One of the most important things to realize about our clinic is that we're always going to put you first. Our goal is to create value in everything we do. We're going to figure out where your problem stems from—and work together as a team to fix it.
MEET THE DOCTORS »
Adjust. Enlighten. Inspire.
These are words that guide our actions every day, beginning with our morning huddle with our entire staff. Everyone gets on the same page mentally and emotionally, and we end our morning meeting with a prayer and high fives.
Years ago, we had a single mom come in with low back pain. She had a 5-year old little girl. Mom came in regularly, but then we didn't see her for an entire week. She came in seven days later looking completely distraught. Her daughter had collapsed at school and had been in the ER for six days. The little girl was prone to continuous urinary tract infections and had to endure numerous rounds of antibiotics. The doctors in the ER didn't know what the source of her problems was, only that one kidney was shutting down.
Mom brought the little girl in to see us, and we immediately started to adjust her after taking scans of her spine. Within weeks, she showed 100% improvement. She never had another UTI. Her kidney function returned to normal. The young lady and her mom have been coming in to see us for 15 years now to maintain their health. What's interesting is that all these years of care in our office didn't come close to the fees charged for six days in the hospital!
Results like these are what keep our passion for our work alive and well.
See Us and Prepare to Be Surprised
Many patients are surprised to learn that chiropractic care isn't about "cracking backs." It's about taking care of your health needs, whatever they may be. We emphasize finding the source of your problem, and, if it's within our ability to help fix it, we will.
Education is vital to us, and we share it freely in a genuine way. Contact us today for a free consultation and see what chiropractic can do for you!


About The Chiropractor at Castlebury | (208) 884-8848